On the 11-02-1994, by order of the Italian Cabinet, a waste emergency was declared in Campania, a southern region in the Italian territory. The entire waste chain was put under the administration of an extraordinary Government Commission. Expected duration, 10 Months.


18 years later, the situation was unchanged.


The commission was created to investigate illegal industrial and city waste disposal, a result of relations between southern criminal organisations, northern Italy businessmen and corrupt politician; but due to the scale of the emergency, the same criminal organisations that had been part of creating the problem found a way to infiltrate the contracts given to solve it.


Illegal landfills proliferated, and 5 million "eco balls," waste cubes compacted to be burned in an incinerator, were considered not up to standard to be processed, and stand to this day in ''Masseria del Re'' in the suburbs of Naples. Meanwhile, politicians and the media directed public opinion blaming the problem to the incivility of the Neapolitan people.


In 2012, the waste emergency was brought to an end, but in some part, the local soil remains to this day contaminated by industrial waste that poses severe health risks.


The Unchecked Chain is a multi-channel video installation which investigates the changing of the landscape on the northern suburb of the city of Naples, showing the complexity and the absurdity of the emergency waste drama. Each channel explores a side of the topic creating an independent storyline. The idea is to create almost a feeling of confusion in the spectator, by juxtaposing often contradictory footages of politician's statements, people involved in the business, illegal dumping and the deep geographical change in the fields outside Naples, without a clear overview to explain the problem, but giving the different point of view on the issues.


Through this research-based project, I hope to raise questions on waste as the final link of a social chain symptomatic of unbalanced power dynamics between territory, corrupt industry, illegal organisations, media, and the will of the few above the need of an entire community.

Materials; 6 Video Channels (5 Screens + 1 Video Projection)

Years; 2019

Typology; Video Installation

Realised for GeoDesign Exhibition at Van Abbe Museum
Curated by Martina Muzi & Joseph Grima

Commissioned by Design Academy of Eindhoven
Video Editing: Gabriele Mariotti, Francesco Pace
Drone Operator: Luca Baylon

Photo courtesy of Tellurico Design Studio
More info on GeoDesign Exhibition Platform
- INSTALLATION VIEW -
- DETAILS VIEW -
- DRONE VIEW -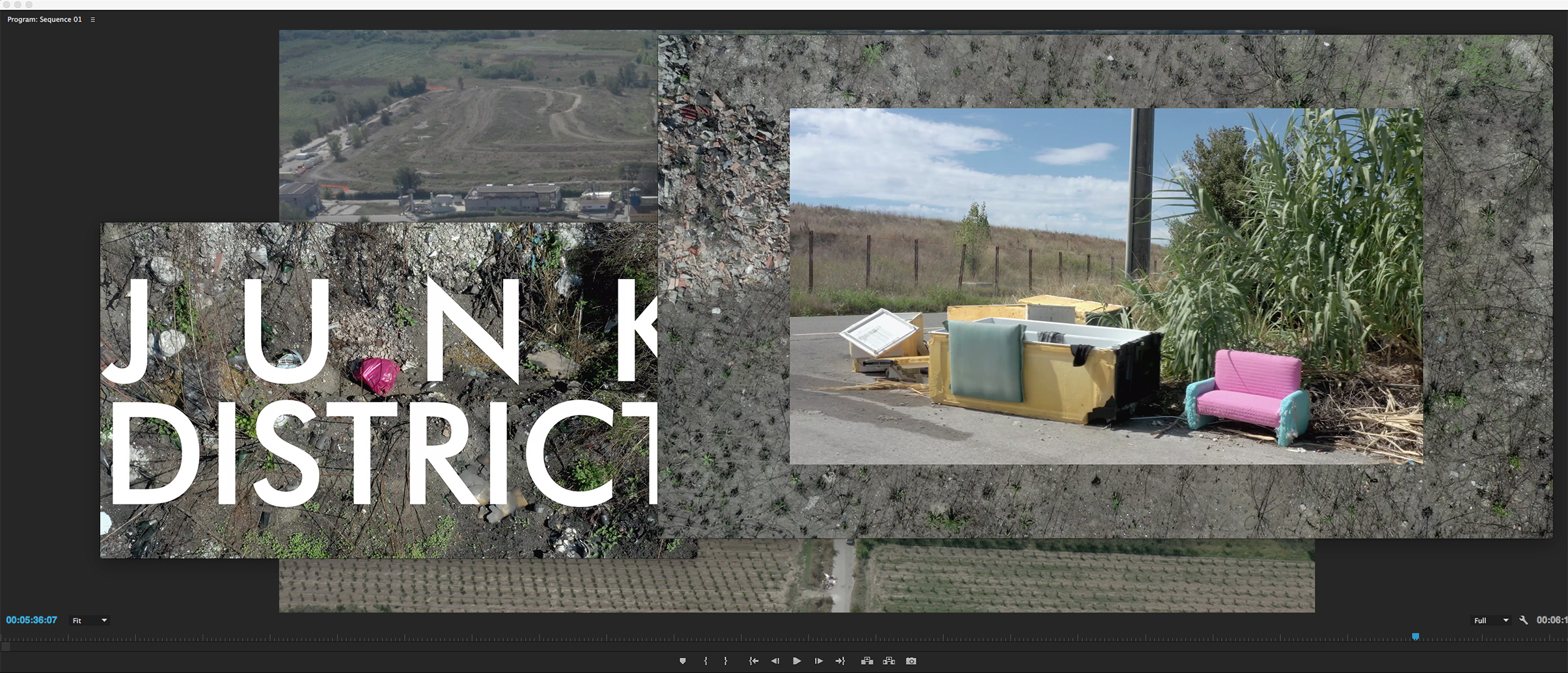 VIDEO INSTALLATION / VAN ABBE MUSEUM / GEODESIGN / TELLURICO / DAE


''FUNCTIONAL ART '' es el nombre de la exposición con la que Galeria Seismasuno muestra el trabajo de los artistas mencionados anteriormente en su nuevo espacio en Madrid.
Existe una fuerte relación entre la industrialización y distribución masiva del objeto doméstico y la progresiva deshumanización y pérdida de carácter a la que se están viendo sometidos. En ellos admiramos valores que nada tienen que ver con la percepción y uso del objeto en cuestión, como la capacidad logística, la eficiencia en sus procesos de producción, o la elevada facturación con la que dotan a sus distribuidores.
Tratar de generar lecturas sobre aquellos aspectos propios de estos objetos se antoja imposible, jamás ha figurado en las intenciones de sus creadores. Curiosamente estos objetos albergan todo aquello que no quiero que ocurra con mi vida, podrá ser fea o bonita, dura, incómoda, divertida, inusual, emocionante o grotesca pero por favor, dios me libre de la insoportable insipidez.
Hay quienes creen que hemos perdido el foco y cuya prioridad a la hora de diseñar un mueble es ante todo, cuestionarse. Cuestionar los valores estéticos en el ámbito doméstico. Desdibujar los límites entre estas disciplinas (arte y diseño) y cambiar sus etiquetas. Estirar aquellos el significado del mueble enquistado en nuestro imaginario. Alterar y descontextualizar el espacio en el cual habitan. Reflejar aspectos sociales, fisiológicos o emocionales de nuestra identidad.
En definitiva, lo que esta reciente corriente artística parece pretender, es generar de forma incansable un sin fin de preguntas y lecturas diferentes en relación a lo que suponen, han supuesto y supondrán los objetos para el ser humano.


Texto de Andrés Izquierdo

I bought a new Tool, I made three Stools
Series of Stools designed and produced by Tellurico. The three Stools are inspired by the ancient technique of the wood carving, adapted on contemporary aesthetic. The Stools are carved out from solid Timbers and Mapple wood with a modern carving tool.
The Stools are available for purchase through, Tellurico Design Studio, Casavelles Gallery and Camp Design Gallery.

On request; in different colours, woods and finishing.

For info and enquire please contact;


info@tellurico.com



Materials; Mapple Wood and Natural Oil finishing

Years; 2019
Available also at

Casavells

or

Camp Design Gallery

Still Photos Courtesy of Tellurico Design Studio

Exhibition Photos Courtey of

Op–Fot

and Josep Playa
- STOOLS at Camp Design Gallery and Casavells -
DRAWING THE SUN,
DESIGNING THE SUN


At the beginning of 2019, Tellurico was invited by Parasite 2.0 to participate in the exhibition ''The Librarian Room'' commissioned by Corraini Edizioni.
The idea was to give to each designer invited to the exhibition a Book around which they have to develop a dedicated object. The book assigned to Tellurico was ''Drawing the Sun'' by Bruno Munari.

''Drawing the Sun'' is a book by Bruno Munari, published by Corraini Editore in 1980. It is one of a series of five children's books written by Munari investigating the different perception of the surrounding environment, the result of a series of workshops that the author has given in the late seventies. The idea behind this book is to stimulate the perception of a child by asking him/her to draw what he/she sees, meanwhile giving them information about the subject, in this case, the Sun.
Munari thought that through this method the children can develop the innate creativity that any human has in himself. He saw the sun as one the biggest form of inspiration for its multiple possibilities and the various scenarios it can creates.

Getting inspired by this approach Tellurico decided to literally translate the message of ''Drawing the sun'' in ''Designing the Sun'' by realising a foldable solar panel charger, which respects the proportion of a regular book. The Object becomes a statement about the sun, raising awareness on one of the many functions that Sun can have in our daily life.




Materials; Solar Panel and Composite

Years; 2019

Typology; Solar Panel Charger

Realised for the Librarian Room Exhibition

Curated by Parasite 2.0 & Studio La Cube

Commissioned by Corraini Edizioni
Photo courtesy Alec Iatan

INSTALLATION / CORRAINI / BRUNO MUNARI / TELLURICO / SOLAR CHARGER
"The biggest living room in the Netherlands"

Frank Van Klingeren

The 't Karregat, architect Frank Van Klingeren multifunctional neighborhood center was undoubtedly one of the most controversial Dutch building of the seventies in the Netherlands. It was at first applauded but later on very much criticised. Now all but forgotten, the T-Karregat was built with the aim of creating and improving the relationships within the community. It relates to the ideals of a new, socialist and open society where common services are shared and there are no borders between social entities. It was thought as a multifunctional edifice where people can be together and share experiences and spend their time.


On a functional level ''T'Karregat'' was thought and designed as a community building. A place where people can go, stay and enjoy time together, where they can share their experiences, receive social service and spend part of their day. On a structural level, instead, the building was built around only one element, the Pillar, which was not only a structure but a pattern repeating itself creating different spaces. Frank Van Klingeren thought the pillar as an element around which to gather and unify different realities. A catalyser of energies.


t'K-at is born through the same thought process. A central object with different shelves on different levels, where the only way to have an idea of the totality of the object is to walk around it. With no front or back, diverse in all its sides as the pillar used to be. Together with this concept Tellurico imposed himself a limitation in terms of materials and ways of building the object. t'K-at is built as a building, with an inner backbone structure filled with insulation material and then coated with a Jesmonite finishing.

t'K-AT is a functional sculpture especially realised for the exhibtion ''The Biggest Living room in the Netherlands''. All the materials were recovered from construction sites around the city of Eindhoven.

For info and request please contact: info@tellurico.com

Materials; recycled polystyrene, PVC pipe, Jesmonite Coating.
Limited Edition: 3 + 1 A.P.
Years: 2018
Realised for

the biggest living room in the Netherlands

Photo Courtesy of Tellurico Design Studio and Josep Plaja
- FUNCTIONAL SCULPTURE -
t'K-AT is a functional sculpture inspired to the pillar of t'Karregat social centre built in the 70's in Eindhoven by the architect F. van Klingeren. This pillar was thought as a central element as a walk around object, with no direction. At the same time is thought t'K-AT, an object with no front or back, multidirectional shelves which perform different functions on the different sides.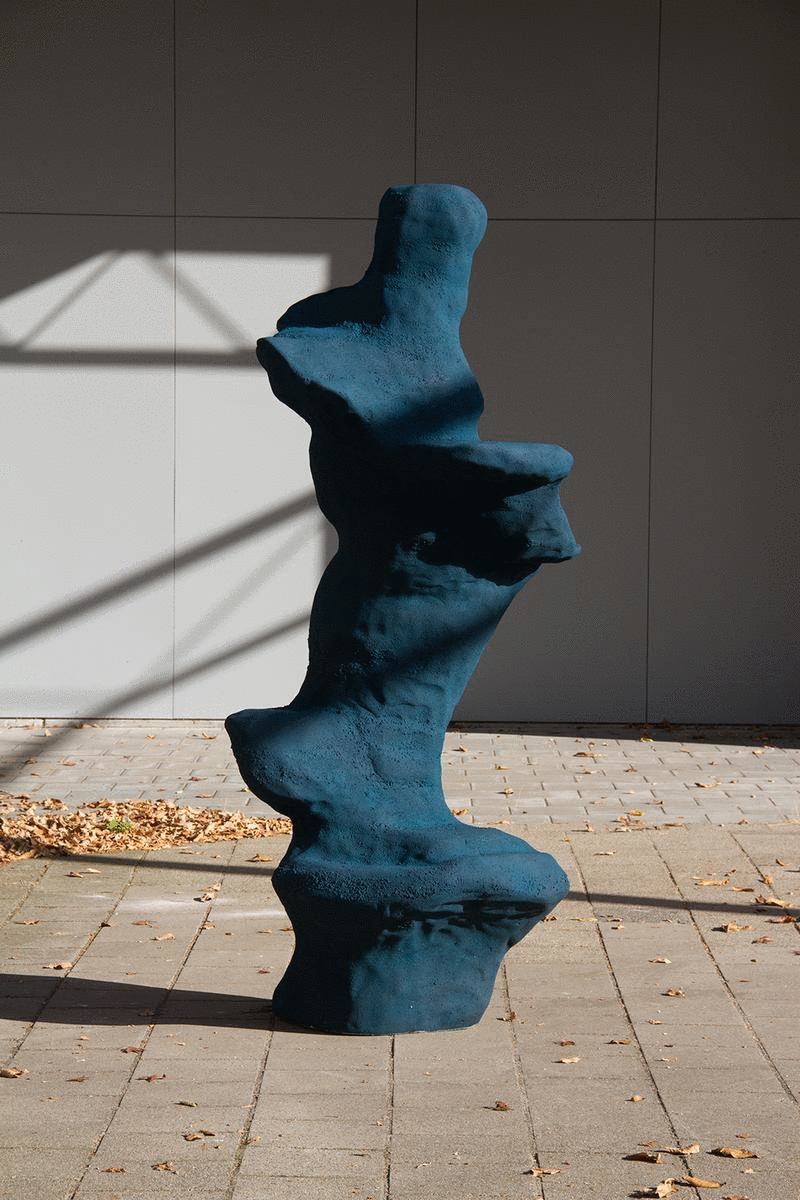 - THE BIGGEST LIVING ROOM OF THE NETHERLANDS -
Dutch Design Week 2018 - T'KARREGAT - EINDHOVEN
- t'KAT AT CASAVELLS BY SIDE-GALLERY -
Spring-Summer Exhibition 2019
Palau de Casavells - Empordà
FUCTIONAL SCULPTURE / EXHIBITION /

DESIGN