"The biggest living room in the Netherlands"

Frank Van Klingeren

The 't Karregat, architect Frank Van Klingeren multifunctional neighborhood center was undoubtedly one of the most controversial Dutch building of the seventies in the Netherlands. It was at first applauded but later on very much criticised. Now all but forgotten, the T-Karregat was built with the aim of creating and improving the relationships within the community. It relates to the ideals of a new, socialist and open society where common services are shared and there are no borders between social entities. It was thought as a multifunctional edifice where people can be together and share experiences and spend their time.


On a functional level ''T'Karregat'' was thought and designed as a community building. A place where people can go, stay and enjoy time together, where they can share their experiences, receive social service and spend part of their day. On a structural level, instead, the building was built around only one element, the Pillar, which was not only a structure but a pattern repeating itself creating different spaces. Frank Van Klingeren thought the pillar as an element around which to gather and unify different realities. A catalyser of energies.


t'K-at is born through the same thought process. A central object with different shelves on different levels, where the only way to have an idea of the totality of the object is to walk around it. With no front or back, diverse in all its sides as the pillar used to be. Together with this concept Tellurico imposed himself a limitation in terms of materials and ways of building the object. t'K-at is built as a building, with an inner backbone structure filled with insulation material and then coated with a Jesmonite finishing.

t'K-AT is a functional sculpture especially realised for the exhibtion ''The Biggest Living room in the Netherlands''. All the materials were recovered from construction sites around the city of Eindhoven.


- FUNCTIONAL SCULPTURE -
t'K-AT is a functional sculpture inspired to the pillar of t'Karregat social centre built in the 70's in Eindhoven by the architect F. van Klingeren. This pillar was thought as a central element as a walk around object, with no direction. At the same time is thought t'K-AT, an object with no front or back, multidirectional shelves which perform different functions on the different sides.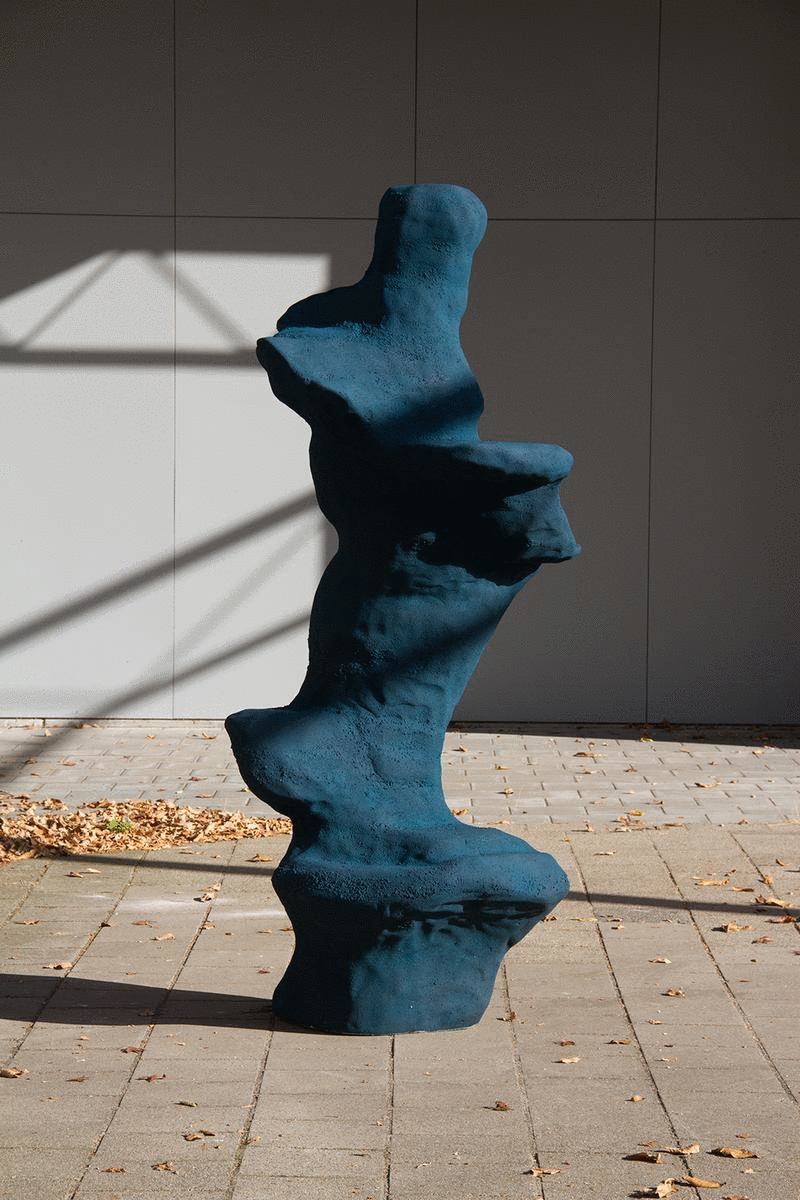 - THE BIGGEST LIVING ROOM OF THE NETHERLANDS -
T'KARREGAT - EINDHOVEN
- T'KAT AT CASAVELLS, SPRING-SUMMER EXHIBITION 2019
PALAU DE CASAVELLS - EMPORDA'
FUCTIONAL SCULPTURE / EXHIBITION /

DESIGN